I am not sure how I found this blog - surfin' the web, I guess! .... but I found this oh so cute blog -love her blog header - click on the picture below!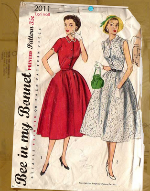 I love vintage as well and made me think about the items I have purchased throughout the years - hmm...now where did I put them??!
This week I am teaching an easy summer bag at the Bernina-Pfaff Sewing Store in Tampa, FL. (Thank you Yvonne and Laurie for the inspiration!)
Here is a picture of it.....
I changed the pattern to make it even easier than the original design!
The fabric line I used is "Hello Sunshine" from Riley Blake ( LOVE her fabrics!)
If you would like to make the bag for yourself and you cannot attend the class, then check out the McCalls link
here!
They have several web bonus links posted and I love to try out the easier ones for my beginner sewing classes.
Please leave me a comment is you are a beginner sewer or someone who would love to learn or "relearn" this skill. If there are several of you, I will start posting some of my favorite web sites!
"A Stitch in Time Saves Nine"! - where did that saying come from???